The 1967 Paris Motor Show
Almost exactly a year after the MkII Cortina was launched, at the Paris Motor Show on 13th October 1967, Ford announced the last major model to be added to the range, the 1600E.
It was built around the 4 door heavy duty body shell and has often been rather poorly described as just "a GT with Twin Cam suspension", but the 1600E was so very much more.
On the inside it featured extra sound deadening, deep pile carpets, reclining front seats, deep dish leather trimmed steering wheel, a cigar lighter, polished wood dashboard and door caps and a spare wheel cover in the load area. On the outside there was additional badging, twin driving lamps, matt black radiator grille, a narrow hand painted coach stripe, and, initially at least, full chrome Rostyle wheels. The 1600E also had dual tone horns, twin speed windscreen wipers and an internal bonnet release.
It all added up to a luxurious package that the buying public absolutely loved and is still many peoples favourite MkII Cortina model today. Ford would go on to build 57,524 1600Es with 2749 of them using a 2 door body shell. The 2 door 1600E was primarily aimed at export markets so all but a handful were left hand drive.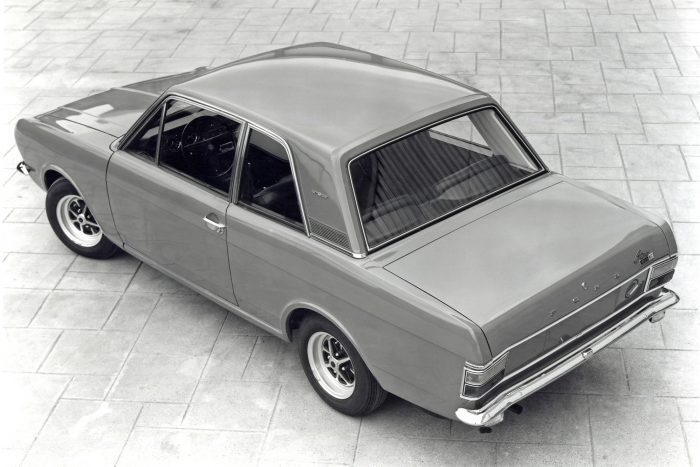 The 2 door 1600E appeared later, after the facelift in 1968
Soon after the crossflow engines had arrived Ford started building GT versions of the Estates. Described as a "dynamic and versatile vehicle" by Autocar magazine in July 1868, these special order only cars were never mentioned in any of the Cortina's advertising or brochures so few were ever sold. Out of a total of 90,290 estates built it is believed only 877 were given GT treatment with just 77 of those being Series I cars, making this the rarest factory MkII model by a long way.
Hand finished by Ford's SVO team, a part built Super was taken off the production line at Dagenham to be given the GT specification, slightly modified to suit the estate body shell.
In July 1968 the basic price of the GT estate was £1137. Options included reclining seats for £25 11s 2d, a radio at radio £20 15s 4d, and metallic paint could be specified for £6 7s 10d.