Among the team Walter Hayes had built up at Ford was Barry Gill. Barry had been the motoring correspondent of the Daily Herald and was headhunted to join the Ford motorsport PR team, he soon became the Marketing Manager. He was very keen about all sports but in 1970 his efforts were all aimed at joining in with the World Cup fever which was sweeping across the country. The England team had won in 1966 and everyone had high hopes for a repeat.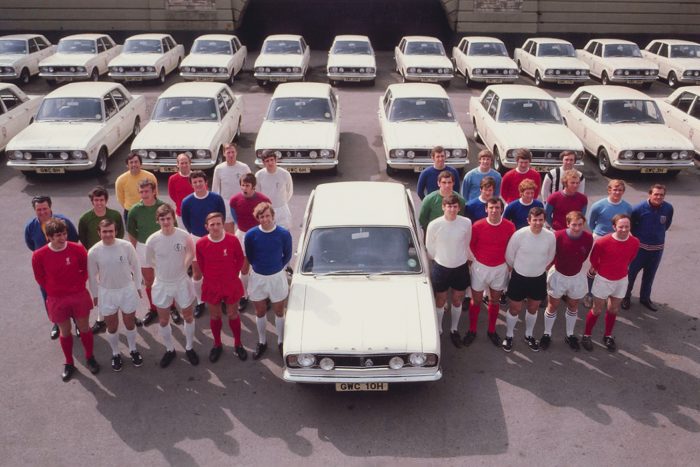 To help keep the now ageing car in the public eye Barry came up with the idea of lending each of the England squad a MkII Cortina. That's lent, not given! The cars did however come with the option to buy at the end of the year but very few of the players did. A fleet of 30 identical ermine white 1600Es carried the England team badge on their doors and had the Union Jack crossed with the flag of Mexico on the front wings. They were given GWC **H registrations – GWC for Great World Cup – and where possible, these were linked to the numbers carried on the players shirts. Bobby Charlton got GWC 9H, and Geoff Hurst's was GWC 10H.
These cars were great PR for Ford and helped keep the 1600E selling right to the end, but of course did nothing to help the football team's success in the tournament.
9th July 1970 was a day of celebration at Dagenham. The 1 Millionth export Cortina, a white two door 1600E, had been completed.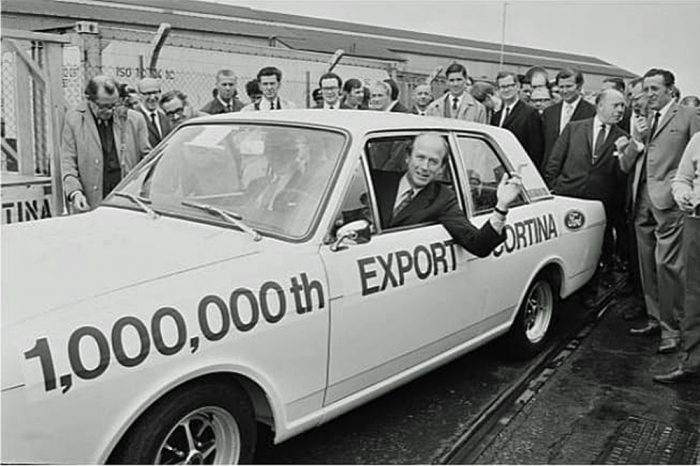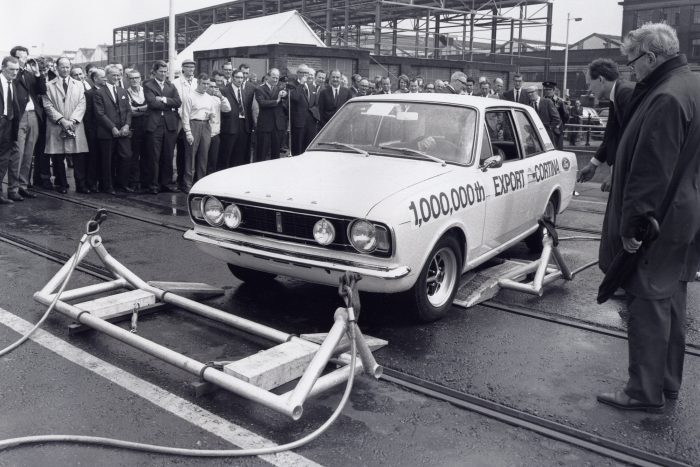 This achievement representing £400 million in overseas sales for Ford of Britain. Always looking for publicity Ford came up with a very special delivery – the car was to get a two hour helicopter ride all the way across the North Sea to it's new owner in Ostend, Belgium.
Ford were so proud of the achievement, they even had a coin especially minted for the occasion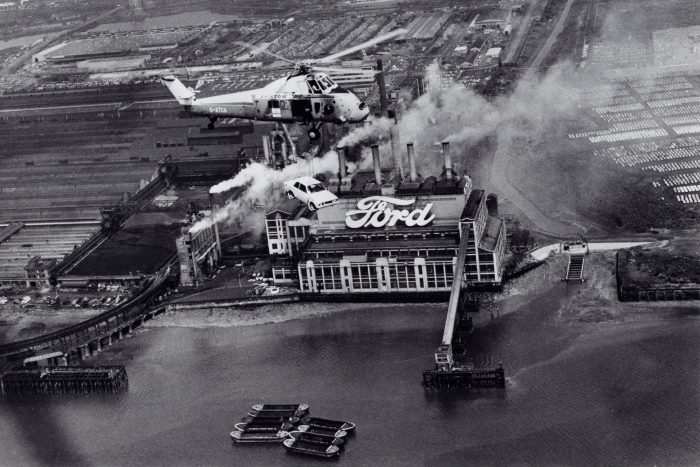 By the time production of the MkII Cortina ended in the autumn of 1970 a total of 1,024,869 MkII Cortinas had been built, more than the MkI had managed over the same time period. It was still selling very well at the end, but Ford of Britain was no longer a separate and independent entity. The parent company had set up Ford of Europe and they were ready to go with their first new model, the MkIII Cortina and the TC Taunus which brought the two previously competing model lines together.