Crayford Auto Developments, based in Westerham, Kent, are well known for their convertible and cabriolet models, but their work with MkII Cortinas didn't stop there. They also built a few coupes for export markets. These had the C pillar cut down moving the rear window forward.
What appears to be a one off project was the Daily Telegraph Camping Car. This was an estate, loaded up with all sorts of extras, that the newspaper was to give away in a competition.
Crayford would also swap out original Kent engines with 3 litre V6 Essex units, not just saloons but for a few of their convertibles too.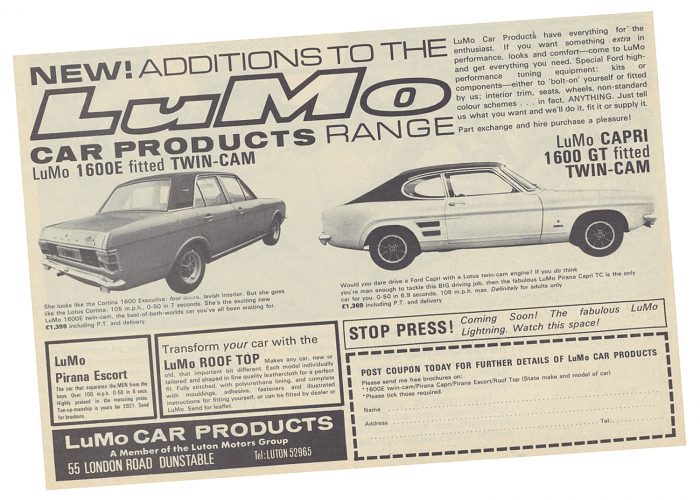 Other companies that would build owners a modified Cortina included Luton Motors, a Ford dealer, advertised 1600Es fitted with the Lotus Twin Cam engines, though they are perhaps better known for their padded vinyl roofs.

Over in Ilford, Essex, brothers Mike and John Young had set up SuperSpeed. Initially they were tuning original engines in Anglias and Cortinas but they were soon also fitting the 3 litre V6s into Cortinas and Escorts too. Like the V6 Crayfords, these are very rare cars today with only a handful of known survivors.
In South London, Ford dealers Allard were selling and fitting sunroofs as well as all sorts of tuning parts, including Shorrock superchargers.
Tuning company Taurus would charge £29 19s 6d to fit your 1300 crossflow with a Webber 28/36 DCD carburetor on a 1600 manifold. They could also supply and fit an Oilstat oil cooler for £17 10s.

Chris Steele Engineering would carry out a more involved tuning process however.

The Steele GT featured finely blueprinted engine that was fitted a reprofiled camshaft and a carefully gasflowed head to give 116bhp using a standard 1600 GT crossflow as the starting point. This would cost owners £295 or £195 if their car was brand new car.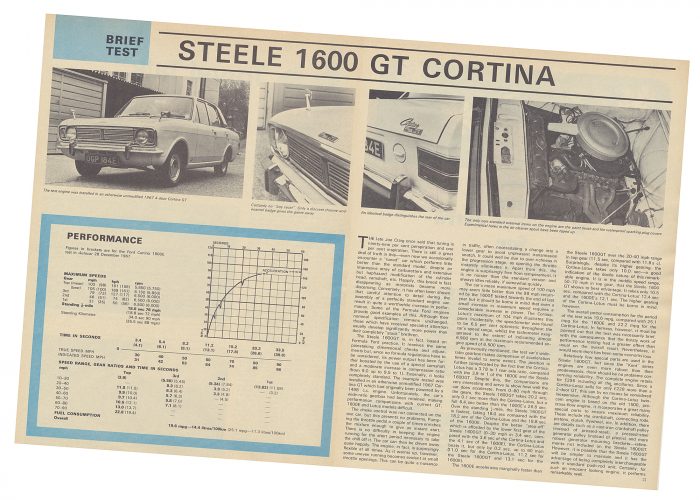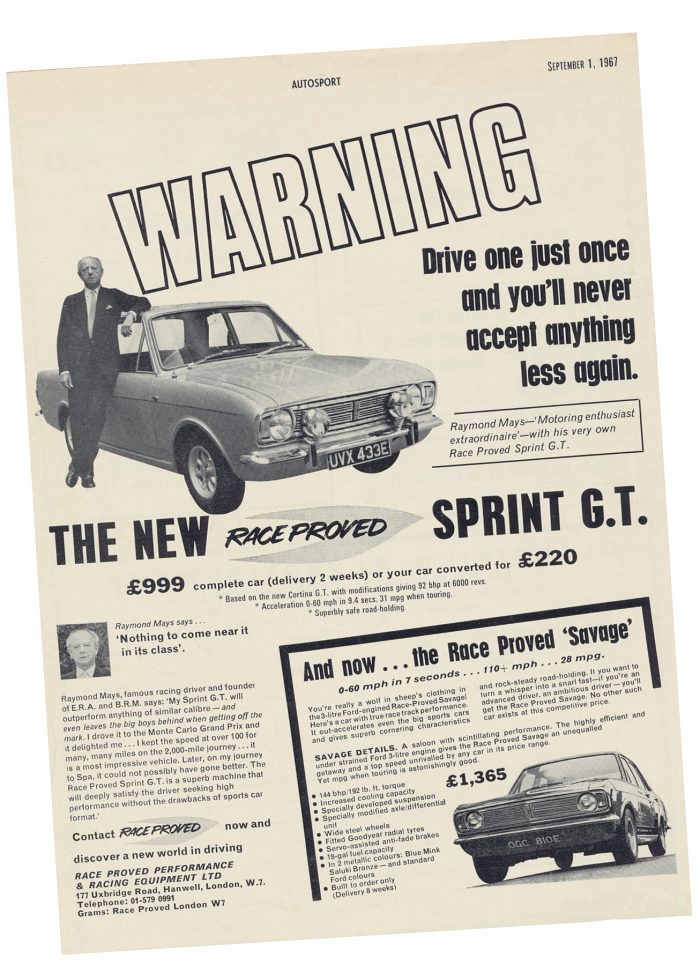 Ex Ford works driver and John Wilment Racing Team manager Jeff Uren set up Race Proved Performance and Racing Equipment LTD to produce road going tuned versions of the Cortina.
Customers could buy a brand new Sprint GT from him for £999 or he could tune your own car for £220. Also, using the Essex engines that first appeared in the new MkIV Zephyr and Zodiacs earlier in 1966 he would go on to build the best known of the V6 conversions, the 3 litre Savage and the 2.5 litre Cheetah.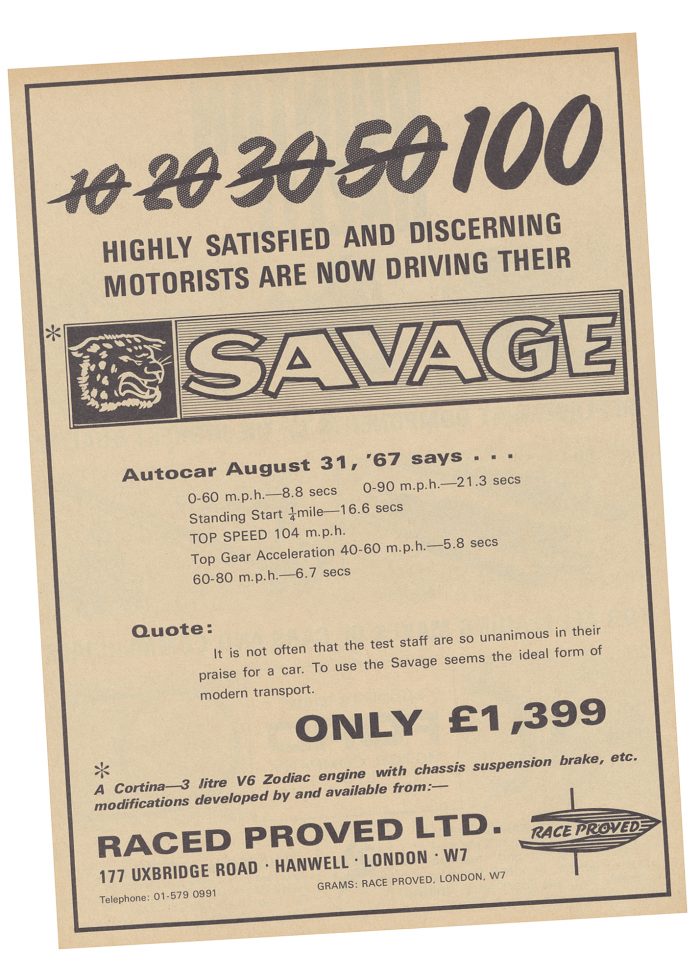 It wasn't just simply about dropping a V6 into the engine bay though and many months of design and development work had been carried out using the (then current) MkI Cortina in an attempt to create the perfect package. However, before Jeff was ready to put the V6 conversion in to production Ford had introduced the new MkII and his development work had to start all over again. Car magazine later reported (in January 1968) 27 different suspension trials had been carried out with both springs and dampers up-rated and a second anti roll bar added before Jeff was happy with the car's handling.
Standard features of the Savage package included a foot rest to left of clutch pedal, a strengthened chassis cross member, a special radiator with thermostatically controlled Kenlowe electric cooling fan in front of it, and also an alternator. The original 4 speed gearbox was used with adaptor plate to fit the different bolt pattern of the Essex engine. The back axle would have uprated halfshafts and a final drive with 3.77:1 or 3.54:1 ratios would normally by fitted. The braking system was based on the standard set up of the GT, 1600E and Twincam, but were power assisted with revised master and rear cylinder sizes. Harder pads and linings were also used.
The extras list included an overdrive, a Powerlok limited slip differential, a long range fuel tank at £23, and a sunshine roof for £43. Minilite wheels could be added for £92, Lucas iodine-vapour headlamps at £13 7s 6d, as well as various Contour seating options.
The first Savage Cortinas available for sale were based on the MkII body shape in early 1967 when conversions based on the Twin Cam and GT saloons could be ordered, estates were soon added to the line up however. After its launch in October 1967, Jeff also gave the 1600E the Savage treatment, "the ultimate Q car" as he called them.
In October 1968, when the 2 door Deluxe was priced at £792 and a Cortina Lotus was £1162, it would take £1439 to buy a 2 door Savage, £1465 for a 4 door. The 1600E based "Savage II" would set you back £1561.