Local Branches and Pub Meets
Everyone is welcome to come along to any of our branch meets.  Friendly and informal, they take place throughout the year in a number of different venues across the country.  It's great if you come along in your MkII, but no problem if you don't!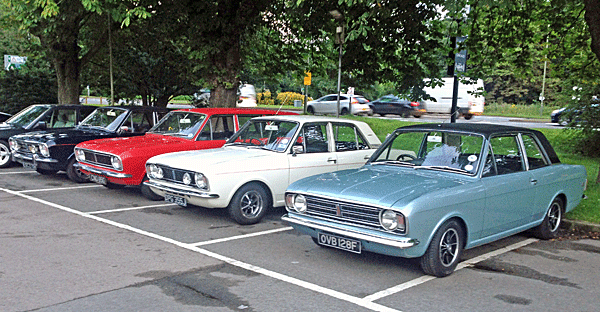 Always phone the branch organisers (between 7 & 9pm Monday to Friday only please!!!) to make sure the meets are on, particularly the winter months (November through to April) when meets may be suspended.
3 Counties (Beds, Bucks, Herts) – Branch contact Graham Bird 07805 268 709.
---
Essex – Meeting all year round, first Tuesday of each month at the Halfway House, Brentwood (on the A127 at the A128 junction) from 8pm onwards.  Contact Pete Pascoe for more details on 07786 890 583
---
Kent – Meeting third Thursday of each month from April through to October, at the Halfway House at Challock from around 8pm. Next to A251/A252 Crossroads between Faversham and Ashford. Branch contact Colin Baker 01303 266483.
---
Somerset – Branch contact Adrian Howe 07836 532 651.
---
Surrey/South London – Meeting together all year round with the MkI Cortina Owners Club, second Tuesday of each month at The Marquess of Granby pub by the Scilly Islands roundabout at Esher, 8.30pm onwards. Branch contacts Steve Vincent 07984 286 155 and Graham Orchard 020 8643 1954.
---