Club Members Spares Scheme
Right from the very early days of the club we have backed up our aim of keeping MkII Cortinas on the road by supplying our members a wide range of parts.
Our spares scheme now has hundreds of individual lines available to our members across the whole world with the spares team continually making efforts to maintain supplies and add new lines. Parts offered through the scheme are brand new, remanufactured or reconditioned, and all come fully guaranteed enabling all fully paid up members to buy with confidence.
NB Being signed up to our Facebook group does not count as being a fully paid up member.
Every effort is made to keep this catalogue current and up to date but please note stock availability and advertised prices are subject to constant change. Always confirm your requirements with Rod before sending payment. Prices exclude packing and postage/courier charges.
To order your spares call 07467 108 645 (7pm – 9.00pm week days only) or email spares@fordcortinamk2oc.co.uk with a list of your requirements.
If you can't you find what you're looking for its still worth asking if we can help.
Payment is accepted in GBP £ Sterling only, and can be made by:
Cash, when meeting the spares team at club events.
Cheque, payable to The MkII Cortina Owners Club Limited.
BACS, account name "THE MKII CORTINA OWNERS CLUB LIMITED"
sort code: 09 01 55, account number: 99994185
BIC: ABBYGB2LXXX IBAN: GB97ABBY09015003781178
Paypal, to info@fordcortinamk2oc.co.uk
And since the summer of 2019, by Credit Card too.
Wrong Orders. The club will only be liable if the incorrect part is sent. If the wrong part/part number is quoted by you an exchange of parts can take place (provided there is no damage to the item) but all costs of this exchange will be payable by the purchaser.
Faulty Items. Any part you receive which is faulty please contact the spares team within 14 days of receipt of your payment. They will advise if he requires the return of the part (this should be completed within the next 14 days). If the item is found to be faulty an exchanged part will be sent Free of Charge and postage for the items returned will be refunded. If the item is not faulty or has been damaged since our postage then the item will be returned to the purchaser together with a further invoice for any additional costs.
Exchange Units. Parts marked as Exchange will incur a surcharge. This surcharge will be refunded when your old unit is returned and is deemed suitable for reconditioning.
Any bank charges incurred will be passed on to the purchaser. All parts remain the property of the Cortina MkII Owners Club Ltd until full payment has been received.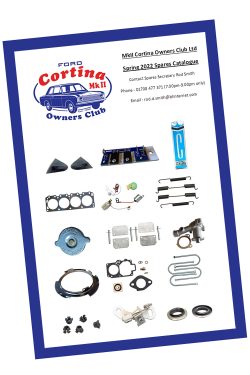 Every effort is made to keep the catalogue current, but please note stock availability and prices are subject to constant change.
Always confirm your requirements with the spares team before sending payment.
Remember, our spares scheme is only available to fully paid up members
Did you know if you buy your new Harringtons Stainless Steel bumpers and overridders through our club spares scheme your club membership with us gets you a big discount?
Talk to the spares team for more details