About the Ford Cortina MkII Owners Club
Over 30 years ago, in the autumn of 1988, Alan and Clare Nightingale, Steve Hawkins, and Pete and Lynn Pascoe got together with Mark Blows and set up what was to become known as the Ford Cortina MkII Owners Club.
It all came about because they had been refused entry to any other club. At the time, if you had a 1600E or a Lotus, a Crayford or a Savage, you were well catered for, but if you had a GT as Alan and Steve did, or a deluxe as Pete and Mark did, there was nothing open to you.
The club they formed in response was initially split in two. One half, the Ford GT Owners Club, was aimed at the '60s Ford carrying the GT badging, cars such as MkI and MkII Cortinas, also the Corsair and Consul Classic/Capri etc. The other half, known as the MkII Cortina Register, was for all other MkII Cortinas. There was clearly a great need for such a club for it grew very quickly and there were soon over 150 members. However, of these 150, only 6 had anything other than MkII Cortinas and it wasn't long before the format was changed.  The two groups were amalgamated and the Ford Cortina MkII Owners Club had arrived.
We had become the first club to cater for every single model of MkII Cortina, not just for the 2dr, 4dr, and estate versions of the models that Ford had made – the base or fleet, the Deluxe, the Super, the GT, the 1600E, and of course the Lotus Twincam – but also for the numerous after market conversions such as those from Crayford Auto Developments (convertibles, cabriolets and V6s), Race Proved (V6 Savage), Superspeed (V6), LuMo (Lotus twincam engined 1600Es), Allard (superchager conversions). etc.
We pride ourselves on a high level of informality and camaraderie, our mission statement has to be "Friendship above all else". Over the years our membership has steadily increased all over the world, with members right across Europe, Scandinavia and as far away as America and Australia to complement our solid base in the UK.
We are a volunteer led club set up as a non-profit private company limited by guarantee. We are members of the Federation of British Historic Vehicle Clubs (FBHVC), registered with the DVLA (see below), and while recognised by the Ford Motor Company, we are completely independent.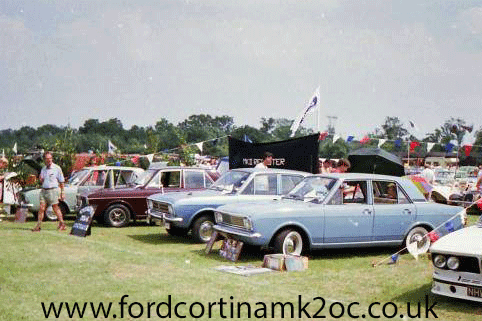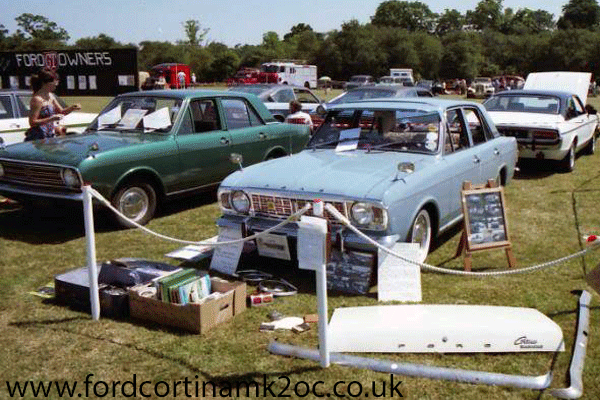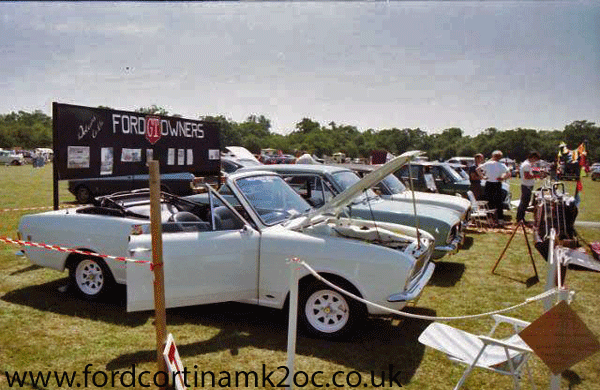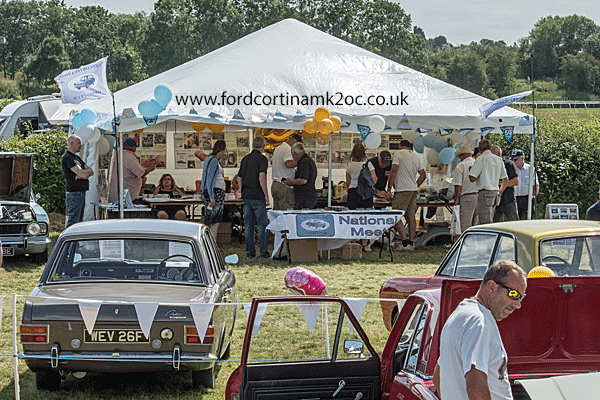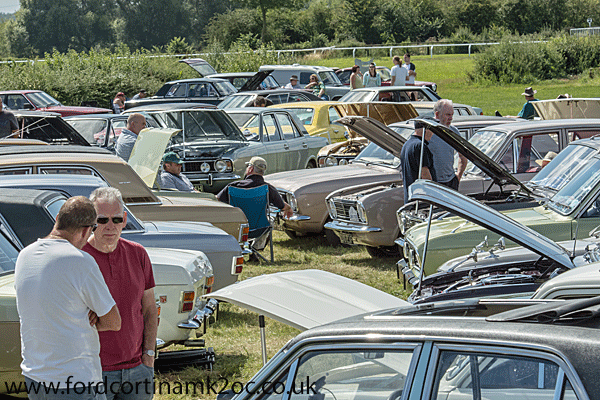 Shows and other events
We attend many classic car shows throughout the year and hold our own National Rally in the summer, "The Best Weekend of the Year" according to our members.
Our members also tell us things like: "Well worth it, gets better every year", "I'll be there next year rain or shine, what a great weekend", "I had a cracking weekend", "Even she who must be obeyed was happy", "If I had to choose one show to go to, this would be it", "Great weekend catching up with friends, superb display of cars with autojumble thown in. Roll on next year".
For the past few years our National Rally has been held in August at Stratford upon Avon Race Course with our friends, the MkI Cortina Owners Club, an excellent show for the whole family to enjoy.
It is not only a great chance to meet up with the committee and other members, but also the perfect chance to buy from our spares and regalia shops in person. Yes, it really is the best weekend of the year.
Click here to find a selection of the shows we attend
We have also organised other one off events such as the Cortinas to Cortina road rally celebrating the 50th anniversary of the Ford Cortina in September 2012, and also our own special day for the MkII's 50th birthday in 2016.
The 2500 mile round trip included all marques of Cortina and began with a visit to Fords own Heritage Collection at Dagenham. The ex Ford (and later Aston Martin) PR guru Harry Calton was there to give us the perfect send off, talking about his work launching the Cortina back in 1962. Alexie Sayle was there too, filming us and the Cortinas for the BBC "One Show".
We were delighted Harry could join us, and the cars Chief Stylist, Roy Haynes, for our own 50th Birthday celebrations for the MkIIs.
You can see how the day went here.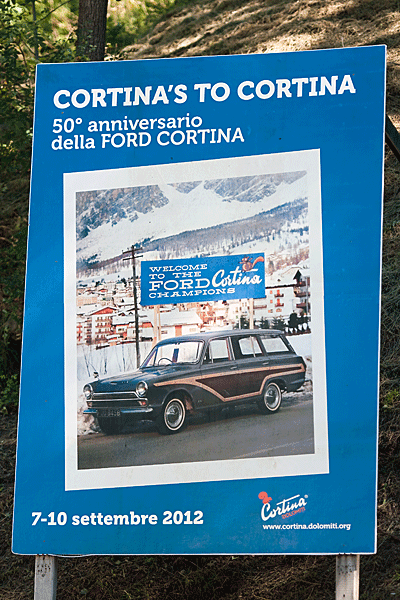 Winners!

Our Classic Motor Show prize wining display at the Classic Motor Show at the NEC
The Ford Cortina MkII Owners Club was never set up to be about winning prizes. Right from the start back in 1988 it always was (and always will be!!) about bringing MkII Cortina enthusiasts together to help keep the cars on the road while having a great time. That's not to say we don't appreciate it when a prize does come our way though, and we are very proud to have picked up some great awards over the years. These include "Club of the Year" from Classic Ford Magazine on three separate occasions, as well as many "Best Club Display" awards up and down the country at shows such as Knebworth, Battlesbridge, and Shepton Mallet, with wins also coming at flagship events such as the Classic Motor Show at the NEC and the Bromley Pageant of Motoring.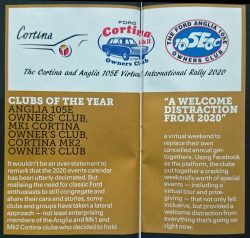 Three times winners of The Classic Ford Magazine "Club of the Year"
Club officers have also picked up a number of individual awards too, such as the Classic Car Weekly "Best Club Magazine" that went to editor Phil Lewis, the Hagerty Insurance sponsored "Unsung Club Hero" won by club spares man Rod Smith, and TV's Wheeler Dealer Mike Brewer awarded Graham Orchard with the "Club Ambassador of the Year" at the National Car Club awards.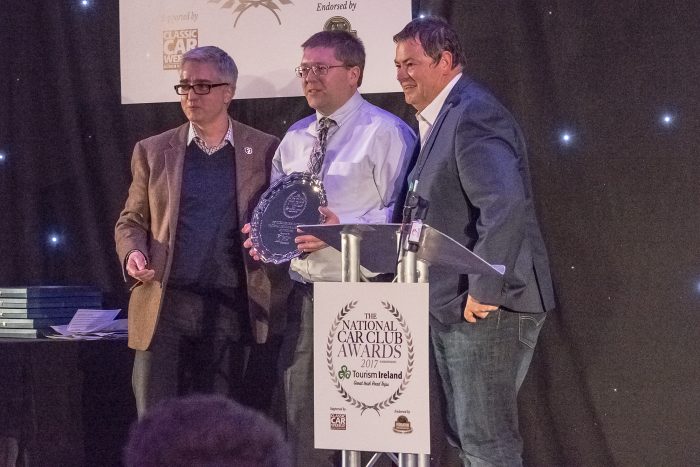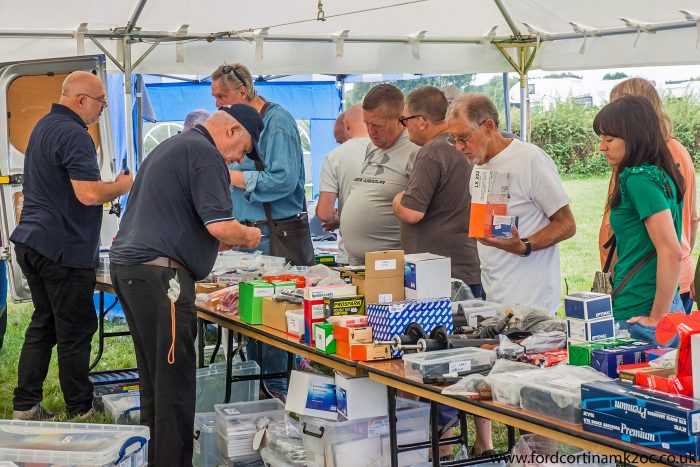 Right from the very early days of the club we have backed up our aim of keeping Cortina MkIIs on the road by supplying spare parts to our members. We now have hundreds of individual lines available and our spares team are continually making efforts to maintain supplies and increase this figure. All parts offered through the scheme are either brand new or reconditioned and come fully guaranteed enabling members to buy with confidence.
Please note, the club spares scheme is only available to fully paid up club members.
Members can contact the spares team for further information by phone on 07467 108 645 (but only between 7pm & 9pm, Monday to Friday please) or by emailing spares@fordcortinamk2oc.co.uk.
Click here for more details about our spares scheme.
The Indicator
Our award winning club magazine is "The Indicator". It is always packed full of interesting Cortina MkII related features including members' MkIIs, forth coming show dates, show reports, branch and pub meet news and information, and news on the national classic car scene that affects Cortina MkIIs. All this, mixed up with the latest spares scheme information, cars and parts for sale and a lot, lot more besides. All classified adverts are free for members, although there are charges from non-members.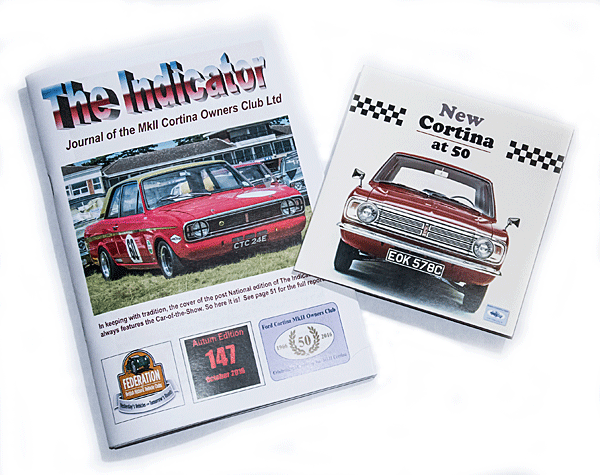 Other Club Services and Benefits
Most classic car insurances are cheaper for members of recognised car clubs such as ourselves, and will accept our club valuations.  For such a valuation the member must allow one of the committee to see the car "in person" either by appointment or at shows.  Please note, valuations cannot be carried out through the post or by email using photos.
Members are also entitled to discounts from Ex-Pressed Steel Panels, Hagerty Classic Car Insurance, and Aldridge Trimming.
Please see The Indicator for details of how to claim your discount.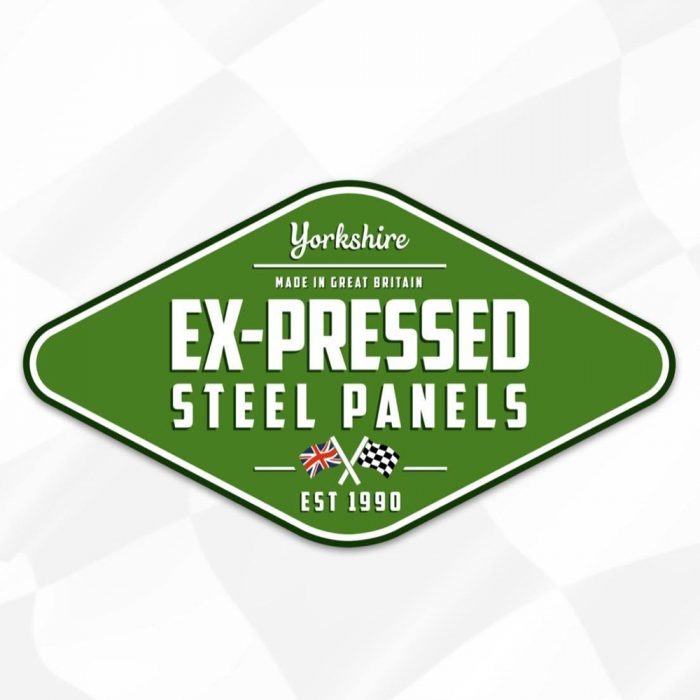 Hagerty offers a comprehensive range of insurance options to classic vehicle owners. Our policies include features designed for classics such as, UK and EU Roadside assistance and recovery, agreed value, salvage retention and more as standard. Hagerty is rated excellent on TrustPilot with a score of 4.9 out of over 7400 reviews.
For more information, call 0333 323 0989 or visit www.hagerty.co.uk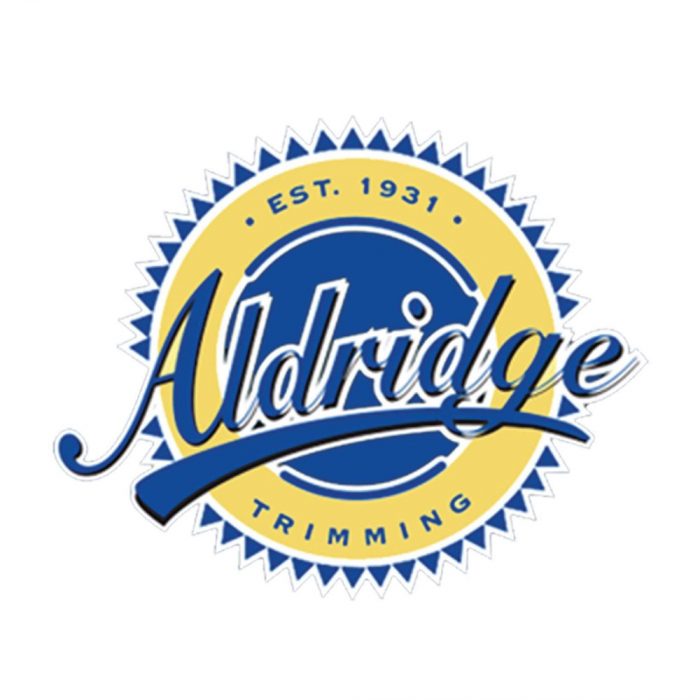 We are also registered with the DVLA to carry out official inspections of member's MkII Cortinas on their behalf. Contact details for Graham Bird can be found in our club magazine, The Indicator.
We have a very friendly and active Facebook group which is open to anyone that has an interest in the Ford Cortina MkII Owners Club and the car itself.