Ford Cortina MkII Owners Club celebrating 50 years of
the Ford Cortina
1962 – 2012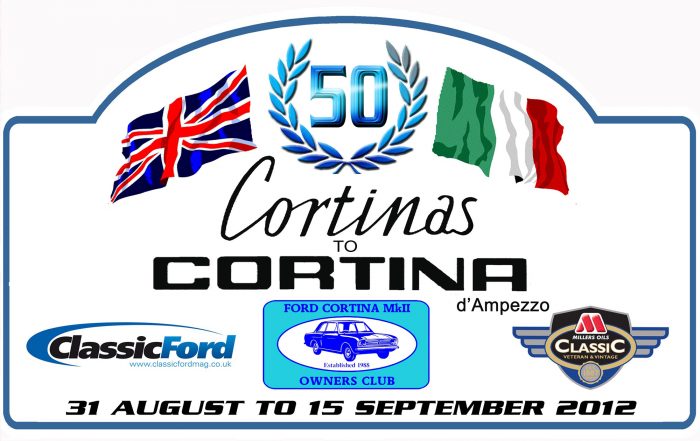 The Cortinas to Cortina story goes all the way back to 1991 when Cortina MkII Savage owner Andy Thorne announced he would be organizing a trip to Italy to celebrate the 30th anniversary of the Ford Cortina a year later in September 1992. Having organized a much smaller trip in 1998, it was Conrad Everton of the Cortina MkI and Ford Owners Club that took on the 40th anniversary trip in 2002.
For the 50th anniversary though, it was our turn to take on the organising. Former club Vice Chairman Graham Orchard teamed up with Pete Pascoe, one of our founder members and a former club Chairman, to make the arrangements for what was to be a truly amazing experience.
The main tour group of 24 Cortinas would start from the cars Dagenham birth place with a visit to Fords private Heritage Collection, before heading through France and Switzerland and of course into Italy to Cortina d'Ampezzo for 3 nights. A second smaller tour group of 5 Cortinas, plus others travelling individually (including a MkI saloon from the Czech Republic and a MkII Estate from Austria) would join us for our time in Cortina where the cars were parked in the town centre on display. The return run would go back into Switzerland before heading northwards through Lichtenstein, Germany, Belgium and France over a 2 week period in September 2012.

All photos © Cortina MkII Owners Club LTD unless otherwise stated