Day 16 – Nurbergring to Dover, via Spa Francorchamps
Report from Graham Orchard
Saturday 15th September was a sad day for me. Over 18 months of planning was about to come to an end, it was the last full day of Cortinas to Cortina 2012. As a group, we had overcome all sorts of break downs, visited some incredible places and driven some of the greatest roads and race tracks that Europe has to offer. It was time to head for home but it wasn't quite over just yet.
There was a fairly big distance to cover to the ferry terminal at Calais so some had made a very early start and hit the road before we had even got down to breakfast. Despite the long drive, a few of us still wanted to make a slight detour to the race track at Spa Francorchamps – perhaps we should have been out earlier with the others? It was a rather cold morning, a little misty, and the ground still quite damp from the overnight rain when we got on our way in a convoy of 6, us with the 4 other MkIIs of Magnus, Roger and Jacky, Pete and Lynn, Mike and Linda, and Graham in the XR6.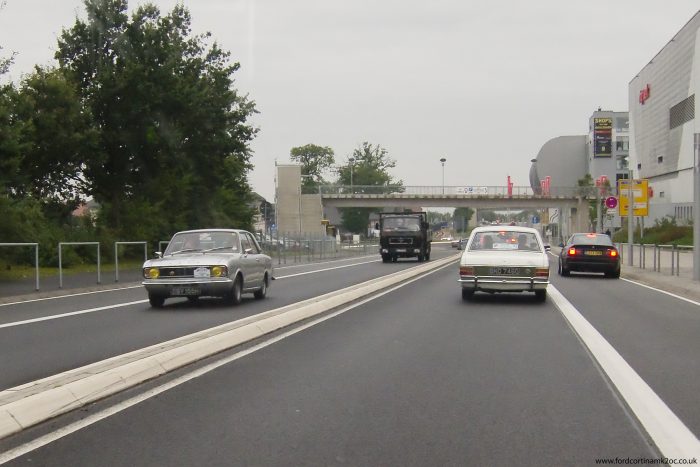 Having got the first fuel stop of the day out of the way we made good progress out of the Eifel area on some great country roads. We would have loved to have spent the whole day on roads like those, but with the need to pick up the speed and get the ground covered it wasn't long before we headed for the motorways. However, thanks to road works, and the satnav not recognising the new layout of the junction we managed to join the motorway on the wrong side. The first junction where we could turn around was nearly 10 miles away, so much for making up time.
We got to the race track to the south side of the circuit, not quite where we were aiming for but we stopped and parked up anyway inside the track near what looked like a small karting school. For a while we stood and watched the quite exotic (and some not quite so) machinery that was racing around the GP circuit. A quick toilet stop, a few photos and we were away again to try and find the main entrance and pit area. Well, most of us were away. Somehow, we managed to drive off without Magnus. I didn't know he had gone for a drink and only found out he wasn't with us when we stopped at another part of the circuit. Oooops!
When we eventually found the main entrance we bumped into Rob and Peter, Steve and Rob, and Richard. They had already had a wander around some of the grandstands and were about the head into the old pits. Sounded like a good idea to me, but before that we needed to say goodbye to Mike and Linda who were heading off to catch their ferry from Zeebrugge. Pete and Lynn, together with Roger and Jacky also got going again towards Calais.
By the time we got into the pits the drivers had stopped for their lunch break so we got to see all the cars we had been watching close up. They were mostly Ferraris and Porsches, but also the latest road going McLaren, a couple of Corvettes, a handful of R8 Audis, and other track based racers that I didn't recognise at all. I tried to get a closer look at the famous Eau Rouge corner at the end of the pit lane but the stewards didn't seem too keen on that. We had to make do with hanging over the pit wall, but what a view! I've been lucky enough to visit Spa before and it always amazes me just how much the track changes height in places, you really don't get a sense of how steep it actually is when watching the races on the TV.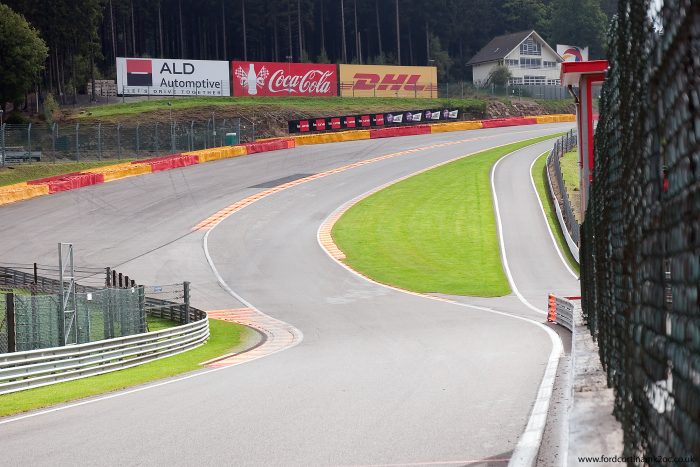 With the clock ticking we were soon back on the road again, this time in a convoy of 3 with Graham in the XR6 and Rob and Pete in the Savage. We had got a long way into France by the time we tried to make a lunch and fuel stop. After a fair bit of messing around we discovered that the petrol pumps were credit card pre-payment only and that none of us had cards that worked in them. Not a problem for Graham, he had enough petrol. I gave up trying, and left 50 Euros behind the shop counter, getting the change after I'd filled up, but Rob decided to leave it and try at the next services. A great plan, had the next services not also been card payment only pumps that Rob still couldn't use! Anyway, we got a sandwich and were stood outside eating by the cars when Peter spotted a Blue Mink MkII over the other side of the car park. I wandered over to find Magnus fast asleep in his car, at least we knew he had found his way out of Spa.
After making our apologies to Magnus we were on our way again, pushing our old Cortinas rather harder than I was happy with, but by this time it was looking quite likely we would miss our ferry. As it worked out, we were late to the ferry terminal, but the boats were running just as behind as we were and we ended up on the one we should have been on in the first place. We weren't the only ones that were late either, we joined John and Anne, Malcolm and Dale and Ian and Len in the dockside queues.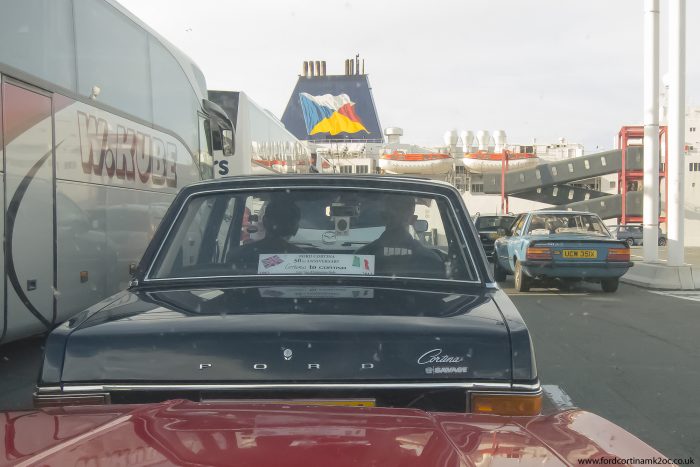 The crossing back over the English Channel was one of the nicest I have ever made, but I was feeling as flat as the water was. With another amazing sunset for our approach to Dover, our adventure really was finally coming to a close. We had covered getting on for 2500 miles in 2 weeks, driven across 7 countries, stayed in 11 different hotels, and all spent in some of the nicest company you could ever want. The memories will last a lifetime. Thank you everyone that made it such an amazing adventure: to the Ford Motor Company and Harry Calton for the incredible send off, to Millers Oils and Classic Ford magazine for the sponsorship, to Rosa and her team at Hotel Cortina for the fantastic reception, and of course to everyone that came along.
See you all for the 60th?
So that was that, Cortinas to Cortina 2012 was all finished.
Or was It?……..
All photos © Cortina MkII Owners Club LTD