The Cortina and Anglia 105E Virtual International Rally 2020

Our usual National Rally with the MkI Cortina Owners Club was cancelled this year because of Covid 19 so we held a virtual online International Rally instead.
For this we set up a new group on Facebook to effectively mimic the usual National weekend which would be run jointly by us and the MkIOC. The Ford 105E Anglia Owners Club would play its part too as they were to have been joining us again at Stratford for their National Rally again.
It group would open up Friday lunchtime when the show field would normally open for general set up and welcome for those camping, there would be a virtual version of the annual Saturday road run and quiz and interclub BBQ in the evening and of course no National weekend would be complete without a little Sunday competition – it may have been a virtual event but there were real prizes to be won! With things being a little, well, different to normal, we'd make the competition classes a little different this year too. Instead of the usual Best Deluxe, Super, GT etc. there would a Best MkI, MkII and 105E, but we'd also mix things up a little and put both the MkIs and Anglias up against our MkIIs for four other categories: Best Engine Bay, Best Modified Car, Best Interior, and Best Work in Progress.
With the whole event being worldwide for the first time ever, and the internet being in everyone's living room, office or pocket there would be no prize for furthest travelled, and to keep everything as fair as possible there could be absolutely no bias towards any of the marques involved. The judging would need to be external and completely independent of all three clubs. Our thanks then to lifelong Ford fan Tim Fletcher, sales manager of independent West Yorkshire based Ford dealer Springfield Garage who was volunteered for the job by MkIOC Chairman Mike Jordan.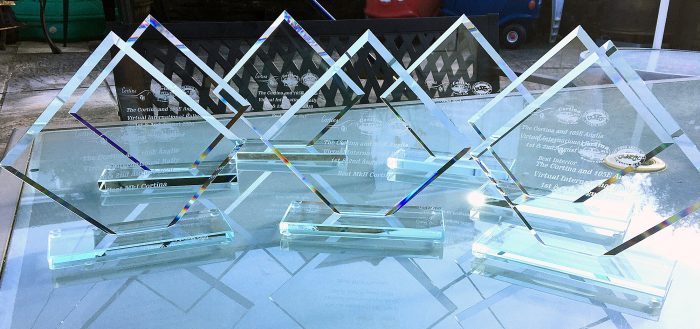 Although the dedicated group for the event, "The Cortina and Anglia 105E Virtual International Rally 2020" has now been archived you can still find it HERE but a few highlights follow.
We were raising money for two very worth while charities this year, The Bath Cancer Unit Support Group and the Alzheimer's Society.
If you'd like to donate too please use this link here.
A few of the cars on the virtual show field shown in the competition categories they were entered in:
Our thanks to Tim Fletcher for judging and congratulations to the prize winners and their cars.
Of the 7 awards available, MkIIOC members managed to take 4 of them. The Best Work in Progress went to Mark Kempson and his south African 2dr 1600E and Best Modified went to Richard Coles in Australia and his Shorrock super charged Black Cherry estate. Richard Farrell took Best MkII with his 1600E while the award for Best MkI went to a very nice Lotus Cortina owned by our very own Adrian Howe.
A big thank you to everyone who joined in and made this happen.
It was a great weekend but hopefully we'll all be back at Stratford again next year. See you there!