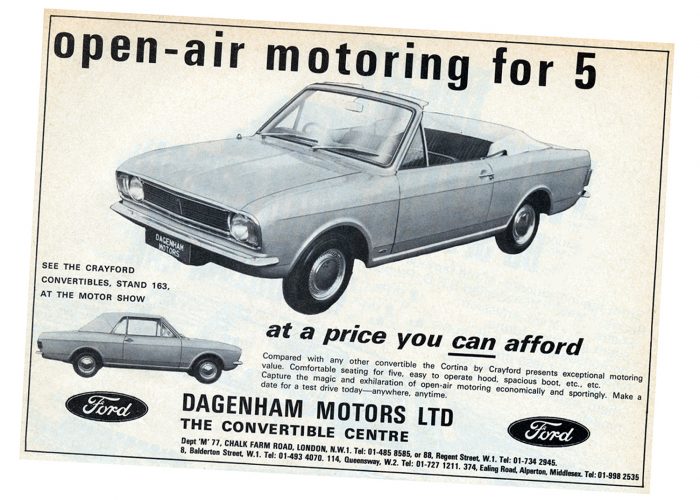 Ford were not the only ones to be showing the brand new Cortina at the 1966 British International Motor Show, as over the other side of the show hall on stand 173 were Crayford Auto Developments. They had three cars on display, one of them a Cortina convertible finished in the new Blue Mink metallic paint with a white hood and black interior upholstery.
Thanks to the connections Crayford founders David McMullan and Jeffery Smith had made through their work producing MkI Cortina Convertibles they had discovered earlier that the MkII was on its way. They arranged to meet with Terry Beckett in the hope of getting their hands on one straight away. To their great surprise he agreed though he couldn't let them have a finished car – a shell would be pulled from the Dagenham production line and because of the embargo surrounding the new model it would all have to be done in complete secrecy.
Arrangements were made and in early September a new 2 door shell with its components duly arrived under cover at David's house in Tatsfield, Kent. Here the conversion and assembly could take place away from prying eyes at the Crayford factory in Westerham, satisfying Ford's secrecy requirements. Jeffery Smith worked day and night and somehow managed to have the car finished in time for the cars launch just five weeks later for Crayford's first ever London Motor Show.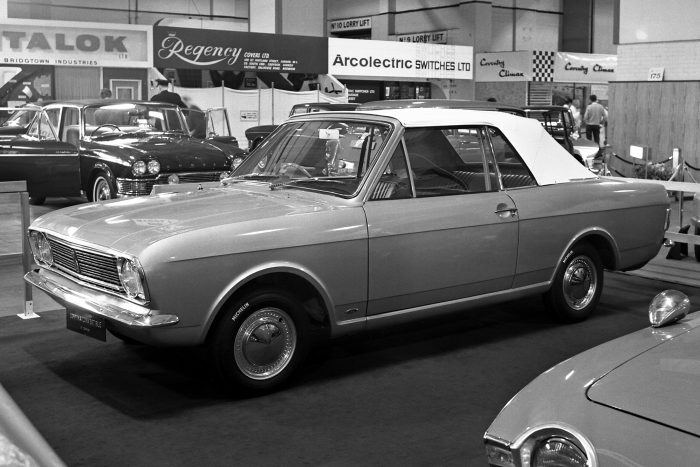 Attending the Motor Show with Ford were Works driver Anita Taylor and model Sally Stokes, part of the "Miss Cortina" team. They seemed very keen to see how the roof mechanism worked on the new Cortina Crayford convertible.
After the show Crayford gave the car an upgrade to full GT specification before returning it to Ford.
It was registered as SOO 661D on 25th November to the Ford Motor Company where it remained as part of the Ford fleet based at Warley for around a year. During this time the convertible was used extensively as a promotional vehicle including serving as the course car at Crystal Palace race meeting over the Easter weekend of 1967, and appearing in a series of adverts for the Irish tourist board.